I'd like to make monthly donations to support the work of El Hogar Projects in Honduras
We use two trusted and secure online payment platforms for monthly donations:
Helcim – Get one tax receipt at year-end; pay by direct debit, or by Visa, Mastercard or Amex. Contact us to set up your donations.
CanadaHelps – Get tax receipts monthly; pay by Visa, Mastercard, Amex or PayPal. See instructions below to get started.
Plan your own donations
Choose your own monthly contribution amount (minimum $10), and the donation start date.
Or, become an El Hogar Partner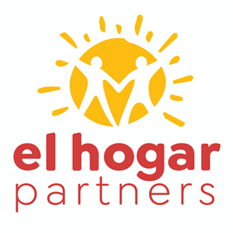 This is an innovative program that enables you to direct your monthly donations to support our programs and all our students. Choose to be an Academics Partner (Elementary or Secondary); Vocational Partner; Health Partner; Residential Life Partner; or Community Partner. Monthly funding levels are $50 / $100 / $200 / $500. Learn more
(If you wish to support El Hogar Partners on an annual basis, please contact us.)
HOW TO SET UP MONTHLY DONATIONS:
Review the following three steps, then click on the red 'Go to CanadaHelps' button below (which opens the CanadaHelps.org website in a new page in your web browser).
1. On the newly opened CanadaHelps.org web page, select the "Donate Monthly" tab.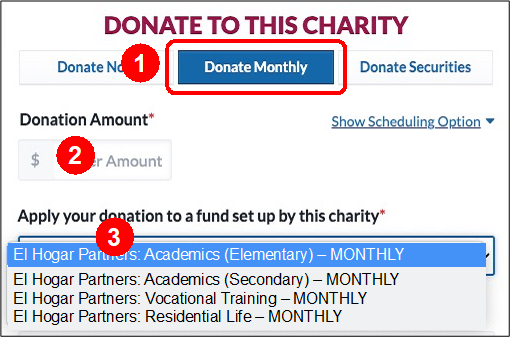 2. Type in your monthly Donation Amount. (For El Hogar Partners, enter either $50, $100, $200 or $500.)
3. From the dropdown menu, choose where your donation should go.
Dropdown menu options are as follows:
El Hogar Partners: Academics (Elementary) – MONTHLY
El Hogar Partners: Academics (Secondary) – MONTHLY
El Hogar Partners: Vocational Training – MONTHLY
El Hogar Partners: Residential Life – MONTHLY
El Hogar Partners: Health Care – MONTHLY
Year-end donation –ONE-TIME DONATION (only appears Nov/Dec/Jan)
General operating support – MONTHLY OR ONE-TIME
Gift in honour / memory of – ONE-TIME OR MONTHLY
Optional: COMMUNICATIONS PREFERENCES
AFTER you've set up your CanadaHelps monthly donation, we suggest you return to this web browser tab to indicate your communications preferences: